Independence Automotive Accessories by Husky Liners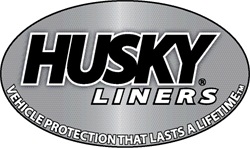 Husky Liners automotive parts are available to you in Independence, MO at Chux Trux! Find all the Husky Liners accessories you need including Body Protection Film, Cargo Area Liner, Floor Center Hump Mat, Floor Mat, Interior Storage Box, Lens Protection Film, Louvered Window Cover, Mud Flap, Protection Film Installation Kit, Protection Film Installation Solution, Side Vent Trim, Tailgate, Truck Bed Side Rail Protector, Truck Cab Protector/Headache Rack, and much more!
About Husky Liners
It started with a passion for hunting and fishing trips, combined with a neat streak. Bob Tyler would take his Lab on his trips, but his vehicle would end up with mud splattered all over the floor. When Bob looked for a washable liner to protect the cargo area, there was none to be found. So he decided to make one for himself and the Husky Liner was born. Winfield Consumer Products demonstrates that neat streak as the facility is clean and well lit, providing an atmosphere for a safe work environment and the manufacture of a quality product by employees who care. It is a privately held company, whose primary business consists of designing, manufacturing and supplying automotive accessories for light trucks, sport utility vehicles, vans and cars to the aftermarket. Starting in 1988, the Company designed the original custom fit floor and cargo liner. WCP has grown from that idea to a 197,000 square foot manufacturing and distribution operation, becoming the automotive aftermarket's leading source for thermo-plastic floor and cargo liners. WCP's proprietary products include Husky Liners branded custom fit floor and cargo liners, heavy duty floor mats, custom molded mud guards, aluminum accessories and various other products to serve the aftermarket. WCP controls the entire process of its products, from the product design and tooling to warehouse and distribution with a strong commitment to quality, customer service, financial strength and the well being of its employees. The mission of Winfield Consumer Products is to meet, and where possible, exceed the requirements of our customers. This is demonstrated by being the originator of the custom fit floor and cargo liners, having the engineering and design team be customer focused and having the best customer service and distribution in the industry, with virtually all orders received shipped within 24 hours.
About Chux Trux
Chux began as an idea back in 1990. At the time there were very few automotive accessory stores and mini trucks were very popular. I was a mini truck enthusiast. After working in the world of auto parts for most of my life and after that the cell phone business and part time pin-chaser in a bowling alley, I put together a business plan using books from the library, consulted with some guys I knew from a local wholesale automotive supplier and started going to banks for funding. I visited quite a few banks but after about 9 months, I was granted an SBA backed loan and started looking for buildings. After a long search I ended up at a small shop that sat way back off the road in Independence, Mo. on the east side of Kansas City. The building had been a Taylor Rental store (division of Stanley Tools) and Taylor had many years remaining on the lease even though they had closed the store. On June 1, 1991 Chux Trux opened for business. The first day I sold 1 bugshield. That's all. The first month we totaled 12,000 in sales. Same the second month. There was one other employee at the time but he didn't always show up for work. After a month went by, I let him go. For the next two months I sold and installed everything. The business was growing. In September, Shawn Shipers wandered in and we hit it off. I asked him if he needed a job and he said yes. He was from Pattonsburg, Mo. I had never heard of it. Today, we have grown to multiple locations with over 2 dozen employee's, including a commercial division selling B2B including car dealers, contractors, municipalities and more.