Independence Automotive Accessories by Air Lift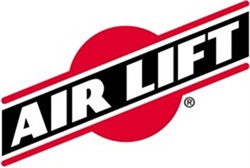 Air Lift automotive parts are available to you in Independence, MO at Chux Trux! Find all the Air Lift accessories you need including Air Helper Spring Spacer, Air Line Fitting, Air Pressure Gauge, Air Pressure Switch, Air Spring Solenoid, Air Suspension Height Sensor, Air Suspension System, Air Tank, Suspension Air Bag / Bellows, Suspension Air Compressor, Suspension Air Compressor Kit, Suspension Air Line Kit, Suspension Load Leveling Kit, Suspension Strut Assembly Kit, Switch, and much more!
About Air Lift
Air Lift Company has been developing air spring suspension products for more than 50 years. The original product, a rubber air spring inserted into a car's factory coil spring, was developed and patented in 1950. Air Lift Company has the longest history of product development dedicated solely to the development of light vehicle air suspension products. In the 1950s, Air Lift pioneered the use of air spring inserts in coil spring suspensions. Then, in the 1960s, the company introduced the use of sleeve-type air springs on pickup truck suspensions. Use of air helper springs and motorhomes followed in the 1980s with street rods and lowered vehicles the new target in the 1990s. Today Air Lift Company is a leader in aftermarket air suspension products which are an evolution of the company's engineering excellence and breakthrough development programs. In fact, Air Lift has won more SEMA awards for air spring development than any other company. Air Lift products are sold throughout the world and can be engineered to fit almost any coil or leaf spring suspension. The extensive product line includes everything from air helper springs for cars, vans and trucks to full air suspension replacement and control systems for recreational vehicles, emergency vehicles, hot rods and lowered performance vehicles. Air Lift also leads the industry in no-drill applications-kits that bolt on to the vehicle's frame, simplifying and speeding installation. Air Lift Company is committed to fulfilling the requirements of their quality management system: to develop, manufacture and continuously improve the highest quality products that fit, work and last. Their goal is to consistently provide products and services that meet or exceed the requirements and expectations of their customers.
About Chux Trux
Chux began as an idea back in 1990. At the time there were very few automotive accessory stores and mini trucks were very popular. I was a mini truck enthusiast. After working in the world of auto parts for most of my life and after that the cell phone business and part time pin-chaser in a bowling alley, I put together a business plan using books from the library, consulted with some guys I knew from a local wholesale automotive supplier and started going to banks for funding. I visited quite a few banks but after about 9 months, I was granted an SBA backed loan and started looking for buildings. After a long search I ended up at a small shop that sat way back off the road in Independence, Mo. on the east side of Kansas City. The building had been a Taylor Rental store (division of Stanley Tools) and Taylor had many years remaining on the lease even though they had closed the store. On June 1, 1991 Chux Trux opened for business. The first day I sold 1 bugshield. That's all. The first month we totaled 12,000 in sales. Same the second month. There was one other employee at the time but he didn't always show up for work. After a month went by, I let him go. For the next two months I sold and installed everything. The business was growing. In September, Shawn Shipers wandered in and we hit it off. I asked him if he needed a job and he said yes. He was from Pattonsburg, Mo. I had never heard of it. Today, we have grown to multiple locations with over 2 dozen employee's, including a commercial division selling B2B including car dealers, contractors, municipalities and more.