Independence Automotive Accessories by Firestone Ride-Rite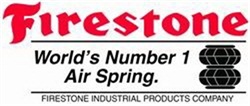 Firestone Ride-Rite automotive parts are available to you in Independence, MO at Chux Trux! Find all the Firestone Ride-Rite accessories you need including Air Adjustable Leveling Control, Air Helper Spring, Air Helper Spring Hardware Kit, Air Helper Spring Spacer, Air Line Fitting, Air Line Tubing, Air Pressure Gauge, Air Tank, Leaf Spring, Shock Absorber, Shock Absorber Mount, Suspension Air Bag / Bellows, Suspension Air Compressor, Suspension Air Compressor Kit, Suspension Load Leveling Kit, and much more!
About Firestone Ride-Rite
More than seventy years ago, Firestone started developing a full air-based suspension for passenger cars. Firestone Airide air springs were installed on the new line fo general Motors buses in the late 50's. Later that decade, air springs began to gain popularity in luxury vehicles. Over the next 20 years, technology improvements in other suspension components, such as compressors and valves, helped support the growth of air suspension. In the 1970's, Ford Motor Company incorprated air suspension in the Lincoln Town Car and Continental. Firestone has continued to be innovative in product design, material selection and customer service, prviding our customers with improved ride quality and safe load-carrying capabilities.
About Chux Trux
Chux began as an idea back in 1990. At the time there were very few automotive accessory stores and mini trucks were very popular. I was a mini truck enthusiast. After working in the world of auto parts for most of my life and after that the cell phone business and part time pin-chaser in a bowling alley, I put together a business plan using books from the library, consulted with some guys I knew from a local wholesale automotive supplier and started going to banks for funding. I visited quite a few banks but after about 9 months, I was granted an SBA backed loan and started looking for buildings. After a long search I ended up at a small shop that sat way back off the road in Independence, Mo. on the east side of Kansas City. The building had been a Taylor Rental store (division of Stanley Tools) and Taylor had many years remaining on the lease even though they had closed the store. On June 1, 1991 Chux Trux opened for business. The first day I sold 1 bugshield. That's all. The first month we totaled 12,000 in sales. Same the second month. There was one other employee at the time but he didn't always show up for work. After a month went by, I let him go. For the next two months I sold and installed everything. The business was growing. In September, Shawn Shipers wandered in and we hit it off. I asked him if he needed a job and he said yes. He was from Pattonsburg, Mo. I had never heard of it. Today, we have grown to multiple locations with over 2 dozen employee's, including a commercial division selling B2B including car dealers, contractors, municipalities and more.