Independence Automotive Accessories by Bully Dog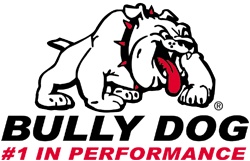 Bully Dog automotive parts are available to you in Independence, MO at Chux Trux! Find all the Bully Dog accessories you need including Air Filter, Air Intake Kit, Auto Trans Shift Kit, Computer Chip, Computer Chip Programmer, Computer Chip Programmer HDMI Cable, Decal, Exhaust System Kit, Exhaust Tail Pipe Tip, Floor Mat, Fuel Additive, Gauge Pillar, Gauge Pod, Gauge Pod Adapter, Pyrometer Sensor, and much more!
About Bully Dog
Bully Dog was formed in 1998 in Aberdeen, Idaho. The founders of Bully Dog Michael, Phillip, and Daryl Klassen were heavily influenced by their father Harolds interest in improving vehicle performance. Several years prior to the companys inception, Harold had experimented with increasing performance on his diesel farm tractor by injecting propane into the engines combustion chamber. Bully Dog products are developed with you in mind and each of you has a different need, want and desire. Our products, all the way back to the first propane kits, reflect that. Bully Dog products are built to be flexible, allowing each user to get their own desired result, from outrageous performance on the race track to improved fuel economy driving down the highway. Bully Dog products have you covered with increased performance, added safety and improved economy. This is evident with the Triple Dog Downloader, Outlook Monitor and the new Performance Management Tool. These products offer the safety of a module married to the performance and flexibility of a downloader. Product innovation is key and Bully Dog takes innovation very seriously. In the past 8 years, Bully Dog has been first to market with product fitment and function over 80 times. They are the ONLY manufacturer that allows you to take their product for a free test drive with the Tri Before You Buy program. And in 2005 with the release of the Triple Dog Downloader and Outlook Monitor, Bully Dog revolutionized the market with the ability to adjust power, safety and economy levels on-the-fly while driving down the road. So what are you waiting for, find the right product for your vehicle and Unleash the Power!
About Chux Trux
Chux began as an idea back in 1990. At the time there were very few automotive accessory stores and mini trucks were very popular. I was a mini truck enthusiast. After working in the world of auto parts for most of my life and after that the cell phone business and part time pin-chaser in a bowling alley, I put together a business plan using books from the library, consulted with some guys I knew from a local wholesale automotive supplier and started going to banks for funding. I visited quite a few banks but after about 9 months, I was granted an SBA backed loan and started looking for buildings. After a long search I ended up at a small shop that sat way back off the road in Independence, Mo. on the east side of Kansas City. The building had been a Taylor Rental store (division of Stanley Tools) and Taylor had many years remaining on the lease even though they had closed the store. On June 1, 1991 Chux Trux opened for business. The first day I sold 1 bugshield. That's all. The first month we totaled 12,000 in sales. Same the second month. There was one other employee at the time but he didn't always show up for work. After a month went by, I let him go. For the next two months I sold and installed everything. The business was growing. In September, Shawn Shipers wandered in and we hit it off. I asked him if he needed a job and he said yes. He was from Pattonsburg, Mo. I had never heard of it. Today, we have grown to multiple locations with over 2 dozen employee's, including a commercial division selling B2B including car dealers, contractors, municipalities and more.