Independence Automotive Accessories by BD Diesel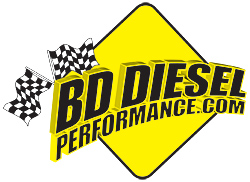 BD Diesel automotive parts are available to you in Independence, MO at Chux Trux! Find all the BD Diesel accessories you need including Air Intake Kit, Air Intake Shutdown, Auto Trans Assembly, Auto Trans Control Unit, Auto Trans Rebuild Kit, Auto Trans Valve Body, Exhaust Brake, Fuel Injector, Fuel Injector Nozzle Set, Fuel Lift Pump, Torque Converter, Turbocharger, Turbocharger Boost Control, Turbocharger Intercooler Hose, Turbocharger Kit, and much more!
About BD Diesel
BD Diesel Performance is unique among its peers in that it designs, manufactures and distributes a wide range of products specifically engineered for performance diesel applications. Located in Abbotsford, British Columbia, Canada, BD's state-of-the-art facility covers 65,000 square feet, and employs 60 plus highly-trained individuals. The BD name became recognized in 1989, when the company introduced the first exhaust brake for the burgeoning diesel pick-up truck market. BD's roots, however, actually date back to 1972, when Valley Fuel Injection, Ltd. first opened its doors. Today, Valley Fuel Injection and BD Diesel Performance are one, with eight specialty divisions that focus on diesel power train components: Fuel Injection Calibration Department, Exhaust Brake Manufacturing, Electronic Circuit Design and Assembly, Transmission and Torque Converter Design and Remanufacturing, Turbocharger Design, Installation and Research and Development. BD's comprehensive approach to the diesel performance aftermarket ensures not only quality products, but educated dealers and satisfied customers. Thank you for your interest in BD Diesel Performance!
About Chux Trux
Chux began as an idea back in 1990. At the time there were very few automotive accessory stores and mini trucks were very popular. I was a mini truck enthusiast. After working in the world of auto parts for most of my life and after that the cell phone business and part time pin-chaser in a bowling alley, I put together a business plan using books from the library, consulted with some guys I knew from a local wholesale automotive supplier and started going to banks for funding. I visited quite a few banks but after about 9 months, I was granted an SBA backed loan and started looking for buildings. After a long search I ended up at a small shop that sat way back off the road in Independence, Mo. on the east side of Kansas City. The building had been a Taylor Rental store (division of Stanley Tools) and Taylor had many years remaining on the lease even though they had closed the store. On June 1, 1991 Chux Trux opened for business. The first day I sold 1 bugshield. That's all. The first month we totaled 12,000 in sales. Same the second month. There was one other employee at the time but he didn't always show up for work. After a month went by, I let him go. For the next two months I sold and installed everything. The business was growing. In September, Shawn Shipers wandered in and we hit it off. I asked him if he needed a job and he said yes. He was from Pattonsburg, Mo. I had never heard of it. Today, we have grown to multiple locations with over 2 dozen employee's, including a commercial division selling B2B including car dealers, contractors, municipalities and more.