Independence Automotive Accessories by BAK Industries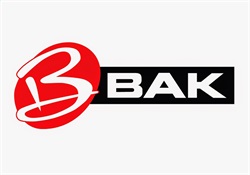 BAK Industries automotive parts are available to you in Independence, MO at Chux Trux! Find all the BAK Industries accessories you need including Bike Carrier, Running Board, Running Board Mount Kit, Tailgate Cap Protector, Tie Down Holder, Tonneau Cover, Tonneau Cover Hardware Kit, Tonneau Cover Tool Box, Tonneau Cover/Truck Bed Rack Kit, Truck Bed Bulkhead Cap Protector, Truck Bed Rack, Truck Bed Rack Clamp, Truck Bed Rack Lock, Truck Bed Side Rail Protector, Watersport Carrier, and much more!
About BAK Industries
Our belief is that just because a truck is used for work, doesn't mean it should look like a work-truck. It is possible to elegantly craft rugged and strong products and still maintain a clean look of sophistication and style. We endeavor to produce products that are not only functional and practical, but made to match OE lines and existing accents on your specific pickup truck. All BAK products speak for themselves in terms of quality and appearance. A tremendous amount of thought and creative styling is evident in every product manufactured by BAK Industries. Over the years, BAK INDUSTRIES has grown from strength to strength with our loyal support and commitment to our customers around the world. We endeavor to continue to better ourselves with each passing year, taking a personal interest in all of our customers businesses to ensure them of the finest quality bedliners and service world wide!
About Chux Trux
Chux began as an idea back in 1990. At the time there were very few automotive accessory stores and mini trucks were very popular. I was a mini truck enthusiast. After working in the world of auto parts for most of my life and after that the cell phone business and part time pin-chaser in a bowling alley, I put together a business plan using books from the library, consulted with some guys I knew from a local wholesale automotive supplier and started going to banks for funding. I visited quite a few banks but after about 9 months, I was granted an SBA backed loan and started looking for buildings. After a long search I ended up at a small shop that sat way back off the road in Independence, Mo. on the east side of Kansas City. The building had been a Taylor Rental store (division of Stanley Tools) and Taylor had many years remaining on the lease even though they had closed the store. On June 1, 1991 Chux Trux opened for business. The first day I sold 1 bugshield. That's all. The first month we totaled 12,000 in sales. Same the second month. There was one other employee at the time but he didn't always show up for work. After a month went by, I let him go. For the next two months I sold and installed everything. The business was growing. In September, Shawn Shipers wandered in and we hit it off. I asked him if he needed a job and he said yes. He was from Pattonsburg, Mo. I had never heard of it. Today, we have grown to multiple locations with over 2 dozen employee's, including a commercial division selling B2B including car dealers, contractors, municipalities and more.