Independence Automotive Accessories by Aries Offroad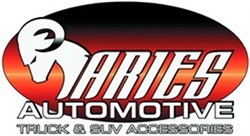 Aries Offroad automotive parts are available to you in Independence, MO at Chux Trux! Find all the Aries Offroad accessories you need including Brush Guard, Bumper Guard, Bumper Light Mounting Bracket, Bumper- Front, Bumper- Rear, Cargo Area Liner, Door Handle Cover, Floor Mat, License Plate Bracket, Nerf/Step Bar, Nerf/Step Bar (Wheel to Wheel), Roof Rack, Spare Tire Cover, Tail Light Guard, Tow Hook, and much more!
About Aries Offroad
Aries Automotive hit the road running in 1997. We have since become an industry leader in providing the latest truck and SUV models with unparalleled tubular steel, aluminum, carbon fiber and ABS plastic products. We have furthered our success by recently expanding our operations in San Antonio, Texas, Harbor City, California, and Richmond, Canada. This has enabled us to meet the increasing demands for our unique and innovative products with on time delivery, at competitive rates. When searching for the latest model application, or simply a top quality automotive aftermarket product, call on Aries Automotive.
About Chux Trux
Chux began as an idea back in 1990. At the time there were very few automotive accessory stores and mini trucks were very popular. I was a mini truck enthusiast. After working in the world of auto parts for most of my life and after that the cell phone business and part time pin-chaser in a bowling alley, I put together a business plan using books from the library, consulted with some guys I knew from a local wholesale automotive supplier and started going to banks for funding. I visited quite a few banks but after about 9 months, I was granted an SBA backed loan and started looking for buildings. After a long search I ended up at a small shop that sat way back off the road in Independence, Mo. on the east side of Kansas City. The building had been a Taylor Rental store (division of Stanley Tools) and Taylor had many years remaining on the lease even though they had closed the store. On June 1, 1991 Chux Trux opened for business. The first day I sold 1 bugshield. That's all. The first month we totaled 12,000 in sales. Same the second month. There was one other employee at the time but he didn't always show up for work. After a month went by, I let him go. For the next two months I sold and installed everything. The business was growing. In September, Shawn Shipers wandered in and we hit it off. I asked him if he needed a job and he said yes. He was from Pattonsburg, Mo. I had never heard of it. Today, we have grown to multiple locations with over 2 dozen employee's, including a commercial division selling B2B including car dealers, contractors, municipalities and more.