Independence Automotive Accessories by SCT Performance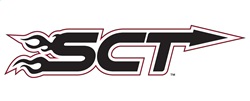 SCT Performance automotive parts are available to you in Independence, MO at Chux Trux! Find all the SCT Performance accessories you need including Computer Chip Programmer, and much more!
About SCT Performance
SCT Performance LLC. is a leading provider of handheld automotive performance / fuel economy programmers and custom tuning software for Ford, General Motors and Dodge / Chrysler vehicles. Founded in 2003 by hard-core automotive enthusiasts, SCT's employees share a passion for the products they create and the performance vehicles that utilize them. Our employees are not just engineers, managers and sales people. Many are performance enthusiasts that build, race and drive high performance vehicles. SCT's strong background in software and OE automotive powertrain calibrations gives our company the ability to put the most powerful and functional tuning products & custom tuning software into the hands of our customers. For more than 7 years, SCT has empowered custom tuning dealers worldwide to provide huge increases in horsepower / torque, while retaining the factory drivability and reliability of even the wildest high performance vehicles. SCT's customers trust us to deliver technology solutions that help them do and achieve more, while providing them with the support and tuning resources they need to grow their businesses. Long before SCT was incorporated, the key players in the SCT organization were already working inside the industry that we now serve. The core SCT team came from different areas of the automotive industry including performance shops, drag racing teams, OEM vehicle calibrations, performance parts manufacturing, and aftermarket tuning. SCT's Advantage III custom tuning software has been in development since 1996 and through extensive development has evolved into the most powerful custom tuning tool in the world. Today, SCT's Advantage III custom tuning software is in use in 26 countries by over 1100 custom tuning performance shops, performance manufacturers and OE performance solution providers worldwide.
About Chux Trux
Chux began as an idea back in 1990. At the time there were very few automotive accessory stores and mini trucks were very popular. I was a mini truck enthusiast. After working in the world of auto parts for most of my life and after that the cell phone business and part time pin-chaser in a bowling alley, I put together a business plan using books from the library, consulted with some guys I knew from a local wholesale automotive supplier and started going to banks for funding. I visited quite a few banks but after about 9 months, I was granted an SBA backed loan and started looking for buildings. After a long search I ended up at a small shop that sat way back off the road in Independence, Mo. on the east side of Kansas City. The building had been a Taylor Rental store (division of Stanley Tools) and Taylor had many years remaining on the lease even though they had closed the store. On June 1, 1991 Chux Trux opened for business. The first day I sold 1 bugshield. That's all. The first month we totaled 12,000 in sales. Same the second month. There was one other employee at the time but he didn't always show up for work. After a month went by, I let him go. For the next two months I sold and installed everything. The business was growing. In September, Shawn Shipers wandered in and we hit it off. I asked him if he needed a job and he said yes. He was from Pattonsburg, Mo. I had never heard of it. Today, we have grown to multiple locations with over 2 dozen employee's, including a commercial division selling B2B including car dealers, contractors, municipalities and more.