Kansas City Automotive Accessories by aFe Power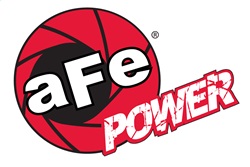 aFe Power automotive parts are available to you in Kansas City, Mo at Chux Trux! Find all the aFe Power accessories you need including Air Cleaner Assembly, Air Filter, Air Filter Cleaner And Degreaser, Air Filter Wrap, Air Intake Kit, Air Intake/Exhaust System Kit, Computer Chip Programmer, Differential Cover, Exhaust Pipe, Exhaust System Kit, Exhaust Tail Pipe Tip, Fuel Filter, Oil Filter, Throttle Body Spacer, Turbocharger Intercooler Intake Pipe, and much more!
About aFe Power
Advanced Flow Engineering, Inc. (aFe) produces high flow, high performance air filters & intake systems for the automotive industry. Founded in April, 1999, aFe was created to address an obvious need in the automotive aftermarket industry: a lack of choice for a high performance aftermarket air filter. We are a team of engineers, machinists, production and sales people who believe in the product we design. We each have years of experience in our respective positions and together work to ensure that we have the best product on the market. Our purpose was not just to be another vendor that offers air filters, we chose to pay attention to those finer details that set an aFe filter apart from the competition. We currently offer aftermarket air filters for passenger cars, light trucks and SUV's. We also have many applications for round racing and universal clamp-on filters. To find your particular application, please use our new search engines. If you do not see your particular application listed, please contact us.
About Chux Trux
Chux began as an idea back in 1990. At the time there were very few automotive accessory stores and mini trucks were very popular. I was a mini truck enthusiast. After working in the world of auto parts for most of my life and after that the cell phone business and part time pin-chaser in a bowling alley, I put together a business plan using books from the library, consulted with some guys I knew from a local wholesale automotive supplier and started going to banks for funding. I visited quite a few banks but after about 9 months, I was granted an SBA backed loan and started looking for buildings. After a long search I ended up at a small shop that sat way back off the road in Independence, Mo. on the east side of Kansas City. The building had been a Taylor Rental store (division of Stanley Tools) and Taylor had many years remaining on the lease even though they had closed the store. On June 1, 1991 Chux Trux opened for business. The first day I sold 1 bugshield. That's all. The first month we totaled 12,000 in sales. Same the second month. There was one other employee at the time but he didn't always show up for work. After a month went by, I let him go. For the next two months I sold and installed everything. The business was growing. In September, Shawn Shipers wandered in and we hit it off. I asked him if he needed a job and he said yes. He was from Pattonsburg, Mo. I had never heard of it. Today, we have grown to multiple locations with over 2 dozen employee's, including a commercial division selling B2B including car dealers, contractors, municipalities and more.